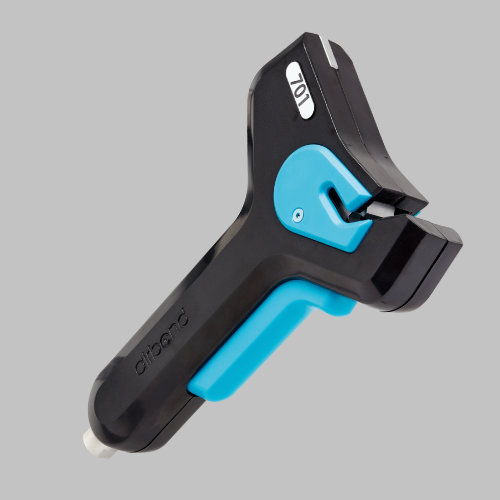 Product Specification
Splice format: Ends opposed.
Applications: Filament winding, pultrusion, weaving.
Yarns: Carbon fibre, glass fibre, aramid, Panox, synthetic C.F.
Yarn counts:100 tex to 15000 tex
Twist: Zero or low twist yarns and tows.
Model 701 for composites
This product is no longer manufactured but is still supported.
Please see the new model
here
Lighter, more capable – Airbond's latest splicer for composites.
Airbond has already shown the way in the glass and carbon fibre business, with its class-leading 110, 113 and 114 splicers. Now our latest patented technology is set to transform the business. The 701 moves standards forward, in a big way.
The 701 is even simpler and more versatile than our old ones, joining a huge range of counts in modern fibres.
And it's lighter, handier and quicker to maintain. The actual splicer body is protected from wear and tear, safe inside an impact-resistant ABS shell.
And, like other splicers in the Airbond range, the 701 is rugged, reliable, and simple to maintain.
Splicer Threading
The Model 701 has been designed to splice heavy-count yarns in materials such as glass and carbon. Airbond research has shown that standard splicers – which typically make joints of around 30 mm in length – produce splices which are weak. Heavy-count yarns demand longer splices, typically up to 150 mm for 4800 tex.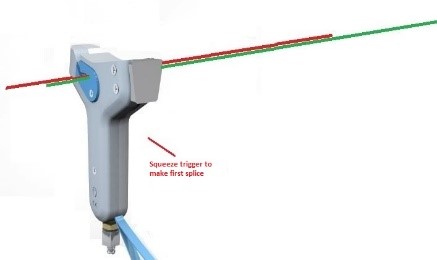 The Model 701 accomplishes this by making three or more splices in a line; it is this procedure which is described below. The splice is made in several stages: three intermingling steps, followed by hand-trimming of the finished joint. First, overlap the yarns by 100 – 150 mm, place the splicer at the left-hand side of the overlapped yarns, and squeeze the trigger to make the first splice.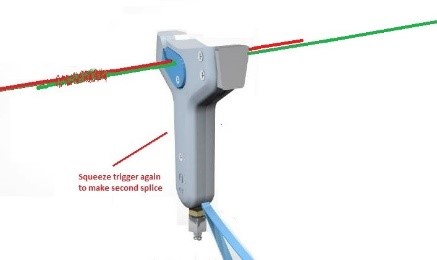 Move the splicer to the central section, and repeat.
Move the splicer to the right-hand end, and repeat.
After the triple-splice has been completed, trim off the waste ends with a scissors.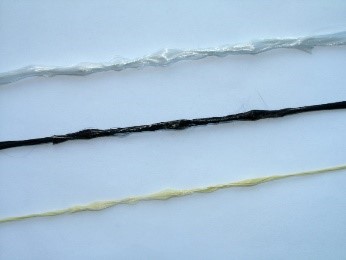 This technique has proved very successful with a number of materials; the picture opposite shows splices in glass, carbon and aramid. It is clear that the result for carbon is excellent – the fibre is very easily damaged by conventional splicing processes. The triple-splice structure of the compound joints is clearly visible in this photograph.
| | | |
| --- | --- | --- |
| Carbon | 40psi | 3 bar approx. |
| Glass / acrylic | 80 psi | 5 bar approx. |
| Nylon / polyester | 90 psi | 6 bar approx. |
Interested in the Product? Would like to find out more?
Contact us now and one of our team will be in touch.