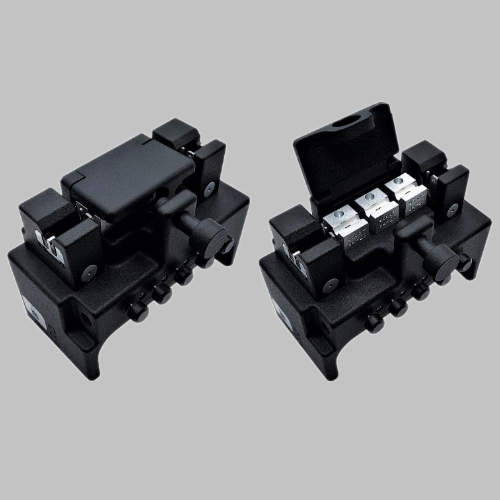 3d Printed – stronger and lighter
Product Specification
Splice format: Ends opposed.
Applications: Filament winding, pultrusion, weaving.
Yarns: Carbon fibre, glass fibre, aramid, Panox, synthetic C.F.
Yarn counts:Up to 16000 tex.
Twist: Zero or low twist yarns and tows.
Model 152
The semi-automatic bench-mounted splicer for higher-count synthetics, up to 16000 tex.
Airbond has already established its position in the composites market with class-leading products such as the Models 113 and 114 splicers. These products are light, handy and quick to maintain. However, some customers identified a requirement for a splicer which is immune to operator error. The 122 met that need.
With its fixed-geometry splicing arrangement, and powerful reciprocating cutters, the bench-mounted 122 offered completely consistent, high-level performance. The adoption of 3d printing has now permitted Airbond to refine the design of the old Model 122.
The new 152 is simpler and lighter than its predecessor, and at least as strong. And much more elegant. And, like all other splicers in the Airbond range, the 152 is rugged, reliable, and easy to maintain.
Interested in the Product? Would like to find out more?
Contact us now and one of our team will be in touch.