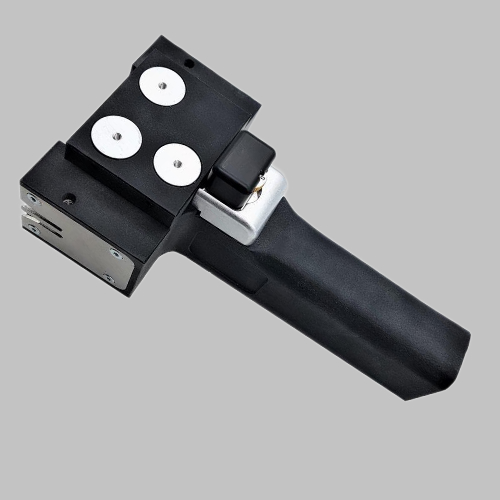 3d Printed – stronger and lighter
Product Specification
Splice format: Ends opposed.
Applications: Composites processes such as filament winding, pultrusion, and weaving.
Yarns: Carbon fibre, glass fibre, aramid, Panox, synthetic C.F.
Yarn counts:Up to 2500 tex.
Twist: Zero or low twist
Model 146
The auto-cut splicer for higher-count synthetics, up to 2500 tex.
The Model 146 continues the theme set by the Model 145 – providing auto-cutting for splicing large yarns. Higher yarn counts demand a longer splice length, if adequate strength is to be maintained. This can be done easily using splicers with no built-in cutters such as the 143. However, expanding a splicer such as Airbond's old Model 111, to make a long splice with automatic cutting, led to an unacceptably heavy and bulky product. The consequence was that users were forced to switch to a manual-cut splicer – such as the 143 or 701 – once counts exceeded 2500.
The Model 145 already splices up to around 1800 tex, using wider-spaced cutters and a longer splicing chamber. That approach has its limitations; it would be good to go further, to counts around 2400 tex, while retaining acceptable size and weight. The result is the Model 146; its knives are 60 mm apart, and there are two splicing chambers. The splicer is slightly bigger than before, but it is manageable. That's because weight has been kept acceptable by using 3d printing technology.
Interested in the Product? Would like to find out more?
Contact us now and one of our team will be in touch.