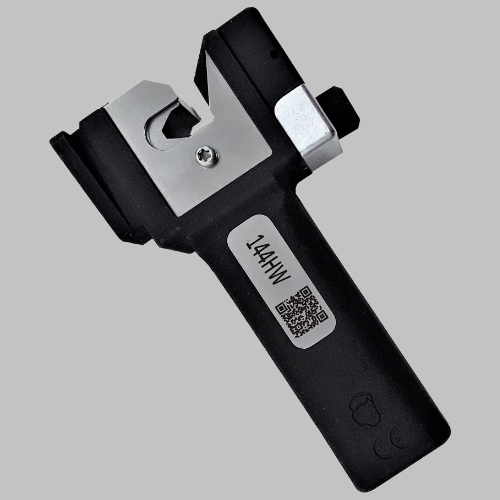 3d Printed – stronger and lighter
Product Specification
Splice format: Ends opposed.
Applications: Composites processes such as filament winding, pultrusion, and weaving.
Yarns: Carbon fibre, glass fibre, aramid, Panox, synthetic C.F.
Yarn counts:Up to 16000 tex.
Twist: Zero or low twist.
Model 144
The manual-cut splicer for very high-count synthetics, up to 16000 tex.
The Airbond Model 144 is a splicer designed for super-large yarns – up to around 16000 tex in the right circumstances.
Developed by expanding the existing Model 143, the 144 retains most of the 143's characteristics, as a light, user-friendly tool. And, like the 143, this splicer can be supplied with a handle to suit the customer's requirements, or with a very short base, so that it can be used in confined environments. Like the 143, the 144 can be supplied with a flow control system which supplies variable-pressure air to the blast chamber, while keeping the main factory line pressure unchanged.
With distinct, innovative techniques for joining brittle yarns such as glass and carbon and joining inherently strong aramids, the Model 144 is internationally recognized as the user-friendly, super-heavy-count splicer.
Interested in the Product? Would like to find out more?
Contact us now and one of our team will be in touch.