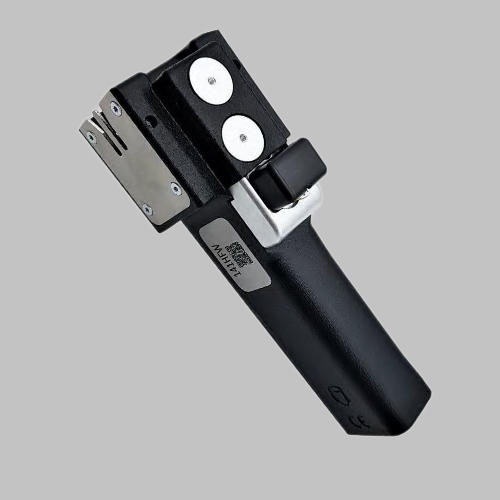 3d Printed – stronger and lighter
Product Specification
Splice format: Ends opposed.
Applications: Most textile processes such as weaving, knitting, tufting, braiding.
Yarns: Natural fibres, plus Nylon, Polyester, glass fibre, aramid.
Yarn counts:Up to 1200 tex.
Twist: Zero or low twist c.f. and staple.
Model 141
The multi-purpose auto-cut splicer for low-count synthetics and staple
The 141 occupies the market position for which splicers were originally developed – relatively fine yarns for industrial applications The 141, with its wide range of formats and operating systems, is the ideal splicer for these lower counts.
Hand-held, fixed, or rail-mounted, the 141 can meet most factory needs, and if circumstances change, the 141 is convertible from one form to another in minutes. The splicer can be supplied with a blast timer, or with a flow control system which supplies low-pressure air to the blast chamber, while keeping full pressure for the cutters. The cutters are adjustable, to enhance performance.
The Model 141 sets a new standard as an effective and user-friendly tool for continuous-filament synthetics,
particularly modern industrial fibres.
The range is simple, durable, and easy to maintain. The splicers can handle a wide range of yarn counts
Interested in the Product? Would like to find out more?
Contact us now and one of our team will be in touch.