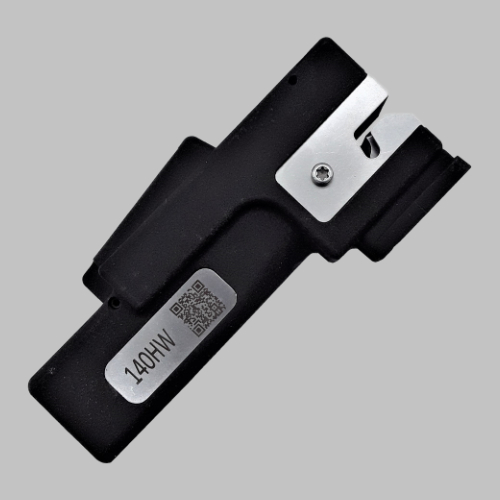 3d Printed – stronger and lighter
Product Specification
Splice format: Ends opposed.
Applications: Composites processes such as filament winding, pultrusion, and weaving.
Yarns: Nylon, Polyester, glass fibre, aramid.
Yarn counts:Up to 9000 tex.
Twist: Zero or low twist c.f. and staple.
Model 140
An echo of Airbond's first hand-held splicer for composites.
The Airbond Model is closely related to the old Model 110. The 110 was a light, user- friendly tool designed principally for the composites market. The 110 range, which remains in service around the world, makes neat, strong joints in yarns of heavy count. These are typically glass fibre and carbon fibre rovings of 4800 Tex or more which, before the arrival of the new Airbond products, were difficult to splice.
With distinct, innovative techniques for joining brittle yarns such as glass and carbon and joining inherently strong aramids, the Model 110 became is internationally recognized as first successful heavy-count splicer for composites. It remains a superb tool – only out of production because of the introduction of later models, such as the 140 and 701.
The 140 has exactly the same physical form as the old Model 110. It's simply a printed version, which performs in the same way as its predecessor. Users who have Airbond Model 110s can therefore purchase the Model 140, secure in the knowledge that it requires no new learning-curve, and can be used with no further training.
The Model 140 matches Airbond's standards as an effective and user-friendly tool for continuous-filament synthetics, The range is simple, durable, and easy to maintain. The splicers can handle a wide range of counts, up to around 9000 tex
The splicer can be supplied with a hanging device, or a flow control system which offers local control of the air supply.
Interested in the Product? Would like to find out more?
Contact us now and one of our team will be in touch.